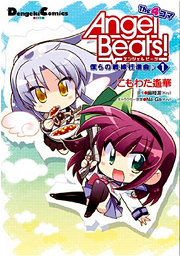 Angel Beats! The 4-koma: Our War Front March Song
(Angel Beats! The4コマ 僕らの戦線行進曲♪,
Angel Beats! The 4-koma Bokura no Sensen Kōshinkyoku
) is a four-panel comic series first serialized in the December 2009 issue of
ASCII Media Works
'
Dengeki G's Magazine
.
A two-page special chapter of the manga was printed in full color in the fifth volume of Dengeki G's Festival! Deluxe published on December 26, 2009. Another four-page special chapter in full color was printed in the sixth volume of Deluxe. The manga is inspired from Jun Maeda's original concept and is illustrated by Haruka Komowata. Komowata was also in charge of illustrating a manga which showcased the progress of the Angel Beats! project and was serialized between the September 2009 and June 2010 issues of Dengeki G's Magazine.
This series ended on November 2013 and was replaced by another four-panel comic entitled Angel Beats! The 4-koma: From the World of the Dead in the Heavens, also illustrated by Komowata.
Ad blocker interference detected!
Wikia is a free-to-use site that makes money from advertising. We have a modified experience for viewers using ad blockers

Wikia is not accessible if you've made further modifications. Remove the custom ad blocker rule(s) and the page will load as expected.