Hideki Hinata
Talk

0
90pages on
this wiki
Hideki Hinata

Name in Japanese
日向 秀樹
Romaji Translation
Hinata Hideki
Debut (Anime)
Episode 01
Debut (Light Novel)
Track Zero Chapter 01
Debut (Manga)
Heaven's Door Chapter 01
Appears in
Anime, Light Novels, Manga
Voice Actor (Japanese)
Ryōhei Kimura
Voice Actor (English)
David Matranga
Personal Info
Gender
Male
Age
17 (before death)
Is Living?
No (possibly has been reincarnated)
Affiliation/s
Afterlife War Front (co-founder/ co-leader)
Final Appearance
Episode 13
Hideki Hinata (日向, 'Hinata Hideki') is the co-founder/ co-leader of SSS along with Yuri Nakamura . He is a boy with a bright and dependable personality. Being one of the strongest and most skilled males of the group he often puts himself in situations where he will protect his companions at any cost, in many occurrences, Yuri herself. He is the male deuteragonist of Angel Beats and the main protagonist of the Heaven's Door manga.
Appearance
Edit
Hinata has soft royal blue hair that ends at his neck along with somewhat messy bangs. He has sharp royal blue eyes (in some appearances have been a lavender/purple color) that match the shade of his hair. He wears the same mandatory uniform as the rest of SSS (excluding naoi). A sandy/beige long-sleeved collared uniform coat with buttons going down vertically on its right, and a beast pocket on its top left along with horizontal pockets on each lower side. The pockets, outer collar and sleeve-tips are rimmed with a chocolate-brown color. On Hinata's left shoulder the SSS battlefront symbol can be seen. He, unlike some of the SSS males chooses not to wear the red tie originally paired with his uniform, insted he leaves his coat open which exposes the plain white buttoned down collared shirt, underneath he sports a maroon red T-shirt. Before his death, Hinata had a shaved head in episode 4, "Day Game" in his flashback. His usual neck-length blue hair had been around a mid-buzzcut.
Personality
Edit
He becomes the first unofficial member of SSS (he becomes partners with Yuri before the founding of the SSS and decides he will follow her no matter what) along with his human roommate Ooyama, and he also is the one who started calling Yuri as "Yurippe" because Yuri was his mother's name and he felt strange calling her that. He also becomes Otonashi's friend, where he usually ends up bringing up suspicions from Otonashi that he might be homosexual. He sometimes give nicknames, such as "Yurippe" (Yuri) and 'Shiinacchi" (Shiina). He was the first one to use the term "Angel" when addressing Kanade. He is also the most friendly in the SSS and the most happy-go-lucky in the group. He's cheerful and flirtatious. Although he is friendly to anyone, he is only furious to Yui and Naoi.
Hinata is often used as a source of comedy throughout the series, one example being his conflicts with Yui and Naoi. Many unfortunate incidents befall upon him, such as when he is kicked down a pitfall trap by Yuri for touching her in the wrong spot in the first shown trip to Guild, when he was propelled into the ceiling of a classroom twice by a rocket under his chair during one of Yuri's plans to demoralize Angel (the second one is spinning, with his head inside the ceiling), being subject to cry out his inferiority to a clothespin, and almost to how easily toilet paper is flushed (both by Naoi).
Background
Edit
In life, his team played an important baseball match. He once missed a fly ball during an important baseball game, and received drugs from his senior after the game to curb his depression. He also remembers being involved in a vehicular accident before finding himself in the afterlife. It can be speculated that the drugs weaken his health, to the point where his focus is low and made him late to notice the vehicle. Still, there is no evidence which ties the drugs and his traffic accident.

This section contains content from the Angel Beats! anime series.

Before the ball game tournament, he receives same flashbacks on the important baseball tournament when he was still alive. When the ball game tournament started, his team (consists of Otonashi,
Noda
,
Shiina
,
Yui
and 3 other
ordinary students
) won match after match and the only team that made it to the finals, fighting against the student council team (consists of Angel, Naoi, and other ordinary students). In the last part of the final match (there was another fly ball to second), he had a second chance to fulfill his dream making him nearly vanished, but Yui had stopped him thinking she was doing revenge not noticing she crushed his happiness, making their team lose the baseball match. After that, Hinata became furious to Yui.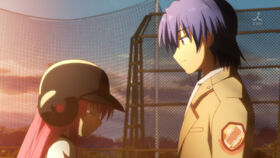 In Episode 10, Hinata helped fulfill Yui's last regret by proposing to her. Then showing her what would have happened if they had met in the real world, before they died. He said he would break her window with a baseball, and they'll meet when he comes to retrieve it. After that, they'll get along and before he knew it he'll be visiting her everyday. Then he'll relieve Yui's mother of her duty to take care of the bedridden Yui, and they'll marry sometime after that. After Yui's disappearance, he told Otonashi that he'll be helping him fulfill his plans. After some conflict with Naoi, he and Otonashi encountered the Shadows.
After the rest of the SSS disappeared, he was one of the members to fight the Shadows. He was reunited along with the other members. They fought the Shadows and defeated a horde of them. He, along with Otonashi, Kanade and Naoi, went to Yuri's aid (she was being consumed by the Shadows in the Guild) and rescued her in time. He was left by Yuri along with the others to combat the Shadows in the Guild. Three days later, they held a graduation and all of them receive a diploma. After the graduation, he bid farewell to Otonashi and he believes he saved up enough luck and he will use it all in the next life (to meet Yui again). This is in reference to his converation with Yui when he states that if he and Yui met in that 1 out of 6 billion chance (a reference to the world's population), he would still marry her and that he would beat the odds for her. Then, he was the third one to disappear after the graduation.
Abilities
Edit
He uses a Smith & Wesson 645 as his favoured side arm but packs a RPK-74 light machine gun when prepared for a combat operation such as in episodes 1 and 8. In cases where his role is sniping, such as in episode 5, he uses a M14 DMR sniper rifle. In the manga, he uses a spear.
"Yes, but she's a powerful moron." (Talking about Shiina)
"C... clothespins... pin things... they keep clothes from falling and GETTING DIRTY! (Under Naoi's hypnosis) 
He was the one who gave a nickname to most of the characters. For example he calls Yuri "Yurippe" (because his mother has the same name), Shiina "Shiinacchi", he comes up with Kanade's "Angel" nickname, and his reference to NPCs when talking about the 'normal' students in the afterlife school.
In the Angel Beats! Track Zero Chapter 1, he once asked Yuri to call him "Hinacchi".
He is shown to be enjoying his immortality and is often excited when he gets badly injured (Manga).
In the manga, he is shown to have a large knowledge of RPG games as he compares the afterlife world to a game, calls Ooyama as "Villager A", and refers to NPCs and the protagonist's point of view with multiple choice.
In the manga, he is shown to have a desire to protect Yuri no matter what, which is not truly seen in the anime. He also has some romantic feelings for her.
In the manga, Ooyama claims that the After Life is a game, and Hinata as the Protagonist.
In the manga, he sometimes has an imaginative view of his move (for what he is supposed to do) which looks like a multiple choice for a main protagonist like in Persona series. And one of the choice is flirt/tease Yuri.
In the OVA (Stairway to Heaven), he cooperates the most in Operation High Tension Syndrome. He was always seen throughout the episode in high-tension.
He is a source of comedy throughout the series and is the most skilled in baseball.
He always succumbs to Naoi's hypnotism.
He has the same english voice actor as Tomoya Okazaki from Clannad and even slightly resembles him.
In the English dubbed of Angel Beats!, he has never called Shiina by her nickname.
He was the first of the characters to be "chair rocketed" to the ceiling in episode 5