Ayato Naoi
Talk

6
90pages on
this wiki
Redirected from Naoi
Ayato Naoi

Name in Japanese
直井 文人
Romaji Translation
Naoi Ayato
Debut (Anime)
Episode 04
Appears in
Anime
Voice Actor (Japanese)
Megumi Ogata
Voice Actor (English)
Greg Ayres
Personal Info
Gender
Male
Is Living?
No
Affiliation/s
Afterlife War Front
Final Appearance
Episode 13

Ayato Naoi (直井 文人, Naoi Ayato) is a human who was initially the Student Council Vice President, but becomes Acting Student Council President after Angel is demoted thanks to Yuri's plan to demoralize her.
Appearance
Edit
Naoi is a boy with chin-length dark green hair with fringes swept slightly to the right. He wears the default uniform of the afterlife school which consists of black pants and a white polo shirt worn under a black gakuran (he is the only SSS member in the Anti-Angel Headquarters that doesn't wear the standard SSS uniform). He also wears a variation of a Mao cap, with a dominant dark blue and black color scheme. Whenever he goes on his rounds on the school's classes, he is usually flanked by a small group of students, particularly NPCs.
Personality
Edit
Before joining the SSS, he is much stricter than Angel was and his first action as president is to punish the SSS for their constant disobedience. He even massacred the SSS after Otonashi and Kanade were sent to the reflection room. Later on, when he joins the SSS, his affection for Otonashi and antagonistic attitude towards the others are used as a constant source of comic relief. He often says negative remarks on others, and then says that with the exception of Otonashi. He also claims himself that he is a God, though the SSS insist that he is not. Hinata is usually the target of his hypnotism, due to Hinata's constant teasing.
Background
Edit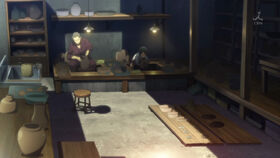 "My brother died. My twin brother and I were born in a house famous for its pottery. My brother was a prodigy and declared heir to the family business at an early age. On the other hand, I spend everyday stuck playing alone in my room. Not even my parents expected anything of me. It was a meaningless life. "You're the one who died." That's what the sky told me. Right, my brother was the one who survived. I swapped places with him. I was the one who had died. That's when my meaningful life began. I was separated from society so I could focus on recuperating. I underwent fierce training under the name of "rehabilitation." Father yelled at me everyday. The training was intense. My brother's life had been so distant from my own. But I worked my hardest to make my life have meaning. I would never return to the days of playing by myself. And I won an award at an exhibit. Although my brother could have done considerably better, it was the best I was capable of. But then, my father got bed-ridden. There was no hope of recovery. He couldn't spin the potter's wheel. Naturally, he was no longer able to teach me pottery. He even stopped scolding me. He'd smile gently whenever I brought him food. What's the purpose of my life? I can't run the studio at my level and I can't go out on my own. Am I stuck taking care of him forever? Please tell me, God! I really did die back then. My brother was the one who had worked so hard. He's the one here and now. It was just my father and my brother. My life was just a lie. I had never existed." Naoi explains his past.
Before he died and ended up in the Afterlife; Ayato Naoi was one of the twin sons of a man famous in the field of pottery. His brother inherited his father's skills in making pottery, while he is left alone in the house usually playing alone. In an accident, he and his brother fell off a cliff and his brother perishes from the fall. Upon his recovery, he was forced by his father to replace his brother and tell anyone who knew of his existence that he had died instead. However, since his brother was the only one who tried hard or had to work hard and he spent all his time doing nothing and playing alone he felt he was the one who had died anyway. Upon his recovery period, he undergoes a strict training from his father to assumingly bring him back to his skills in pottery, which in fact, he did not possess in the first place. He did his best efforts and manages to receive awards, though not in the same league as his award-winning brother. Soon, his father was diagnosed with a terminal illness and was bedridden. Not being able to continue his training, he nurses his dying father as his family's name slowly sank into anonymity. It seems that Ayato had two regrets ultimately although only hinted: The first being the feeling that he didn't do anything with his live recognized as his own accomplishment. The second being guessed from the fact that he became depressed thinking " I really was the one who died that day. It was only ever my father and my brother. They were the only ones who ever tried hard. But they were the ones that died." It is shown that he feels it is unfair that he, the one who couldn't and never did anything survived while, his father and brother, the ones who truly lived had not.
It is not revealed when Naoi arrived in the afterlife, and his first encounter with the SSS is when he has the title of Student Council Vice President. He explained in Episode 6 that he made a door that can resist Angel's Guard Skills that took years to make; which means that he had been in the Afterlife for awhile without Yuri or the SSS knowing about. It is also not revealed how he acquired his hypnotism ability. Upon this time, he works under Angel while he plans on an entirely different agenda: to cease the existence of the said organization.
Behind the Scenes
Edit
Using his ability to control the minds of NPCs and normal humans alike, he proceeds to replace Kanade as the acting Student Council President from episodes 5 until 9. It is possible he was using his powers to influence the decisions of the faculty of the school or as the Vice President, simply took over. When he assumes the position of Acting President, he watches over the school's activities with an iron grip, at times using the students to assume order in the school. Yuri, however, witnessed that he is equally cruel to the students as she watched how he assaulted a group of students in the school's rooftop. Naoi does this to prevent himself from disappearing, as his interpretation of the metaphysical laws of the world is similar to the SSS and beating NPCs act to balance out the positive deeds he does as a model student.
Unveiling "God's" Plan
Edit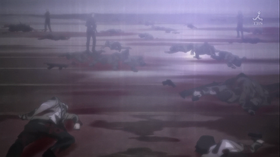 Later, he issued an order to directly attack SSS; as Otonashi and Kanade share a short sentence before escaping from the school's Reflection Rooms, Naoi, with a small group of NPCs under his control, takes down the remaining members by using NPCs as meat shields which also becomes responsible to their deaths. (It is also implied that the members of SSS experience the pain of death several times because of this and the bloody school grounds can be evidence for it.) Otonashi confronts him and it is there that he reveals his plan: to become God himself. Naoi also says that his plan will be hindered by the SSS, and thus, he needs to force into their minds to "cross over" and pass on. However, he decides to abandon this plan upon his admiration of Otonashi's resolve to live a genuine life and joins the SSS later on.
Following Otonashi's Footsteps
Edit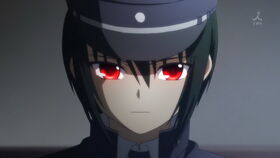 Upon his integration into the SSS, he is seen to treat Otonashi with respect compared to the others, whom he avoids calling with their names and instead calls them with less respectful terms. Likewise, his remarks usually target his fellow members, followed up by a disclaimer that "Otonashi-san" is not among those he targeted with his remarks. He then used hypnotism to recover Otonashi's memories. In later events, he volunteers to assist Otonashi in his plan to help the SSS get over their regrets; despite having almost constant arguments with Hinata, he manages to help out. Eventually, he remains as part of the last people in the afterlife before being the first to disappear in their group.
Abilities
Edit
When in combat, Naoi uses a pair of Heckler & Koch USP pistols but his main ability still lies with his remarkable hypnotic abilities and his high intelligence. From the banter between Yuri and Naoi, both are close to the same level of intellect.
The origins of Naoi's mind control ability is a mystery that even the anime series fails to explain.
Naoi bears a striking resemblance to Naoto Shirogane from the game Shin Megami Tensei: Persona 4.

Coincidentally, hailing from Shin Megami Tensei: Persona 3, Ken Amada shares his Japanese Seiyuu, Megumi Ogata.
Due to his resemblance to Naoto Shirogane. His name Naoi Ayato can be shortened to Naoto."Nao" from Naoto is for Naoi, and "To" is for Ayato

He is the only SSS member in the Anti-Angel Headquarters not to wear the SSS standard uniform.
In Episode 8 Dancer in the Dark, when everyone sacrifices themselves one by one to stop Angel's clones, he is the only character to not have his name cried out when he is killed by a clone, to which Yui said she did not know his name.
During the OVA Stairway to Heaven, he is nearly run over by Hinata and Noda during the dust-cloth race, in which he comments as if they were trying to kill someone. Otonashi apologizes with the end comment "they have always acted like this".

Naoi was craving for acknowledgment from his stern father when he was alive. In a sense, he is the same as Shinji Ikari in Evangelion, who is eager to be praised by his father, too. Please also note that Naoi's Japanese voice actress, Megumi Ogata has been playing the role of Shinji throughout the Evangelion franchise since mid-1990s.

In the Drama CD 3, he was known to be the strongest fighter.

Naoi also has the same English voice actor as Kaoru Hitachiin from Ouran High School Host Club.
Naoi also has the same English voice actor as Kouta Tsuchiya from Baka to Test.
Naoi also has the same English voice actor as Youhei Sunohara from Clannad.
It's most likely possible that Naoi's twin brothers name is "Hayato" as seen from Episode 6 in a picture with his name in a Pot when Naoi explained his past.
Naoi must been an incredible intellignet student to be able to create such a door that can resist Angel's Guard Skills in Episode 6, though he said it took years to make.
References
Edit