Yui (ユイ, Yui) is the guitarist and singer of Girls Dead Monster, also acting as an assistant for publicity and other matters.
Appearance
Edit
Yui has long, pink hair with two bunches tied up with dark red laces, and two twintails on the sides of her face, held together by small cross-shaped barrettes. Her eyes are pink/red. She wears the same uniform as Yuri and the other girls, although her shirt seems to be small enough to see her belly. She wears crossed black ribbons up to her knees and black boots. Though they don't seem to be in use, she also wears garters on each thigh with the addition of black choker around her neck.
On her wrists she sports single handcuffs with few slabs remaining on each (possibly, both parts formed a common pair of handcuffs). She wears wings that are hidden behind her hair. Another particular trait of her is her "demon tail" which seems to twitch and move whenever she is excited, happy, or emotional in any way. She also has two pointy teeth like a cat.
Personality
Edit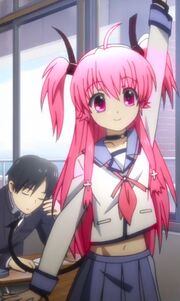 Yui is extremely bright, cheerful, crazy and even a bit wild. She is known to be hyperactive and talks extremely fast. Even within the members of the SSS, she comes off as very excited and loud. She is often flirtatious with others, and takes advantage of every opportunity she can. 
Ad blocker interference detected!
Wikia is a free-to-use site that makes money from advertising. We have a modified experience for viewers using ad blockers

Wikia is not accessible if you've made further modifications. Remove the custom ad blocker rule(s) and the page will load as expected.